WELCOME
Drs. Marko Family Chiropractors is a Chiropractic office dedicated to serving the community of the greater Burlington area. Our passion is to enable the patients we see to function at their optimal levels by removing nerve interference caused by Vertebral Subluxations. We serve people of all ages from newborn infants to the elderly and take great pride in our family oriented practice. The goal of our office is to keep the body as healthy as possible so that it can effectively heal itself from the inside out.
Beginning on your first visit you will sign in at the front desk. This allows us to know you are here and better facilitate your visit.
After signing in you will be asked to fill out forms regarding health and insurance. We appreciate if you would access the forms on our website prior to coming in for your first visit. The forms can be found in the "New Patient Forms" section. The information on these forms is very important to the Doctors so they can take the best possible care of you and your loved ones.
EXAM
Next you will be brought into one of our 5 Examination/Adjusting rooms, where your Doctor will discuss with you, your health history, and reason for being here. A Chiropractic examination will be performed and the Doctor will decide if X-rays are necessary.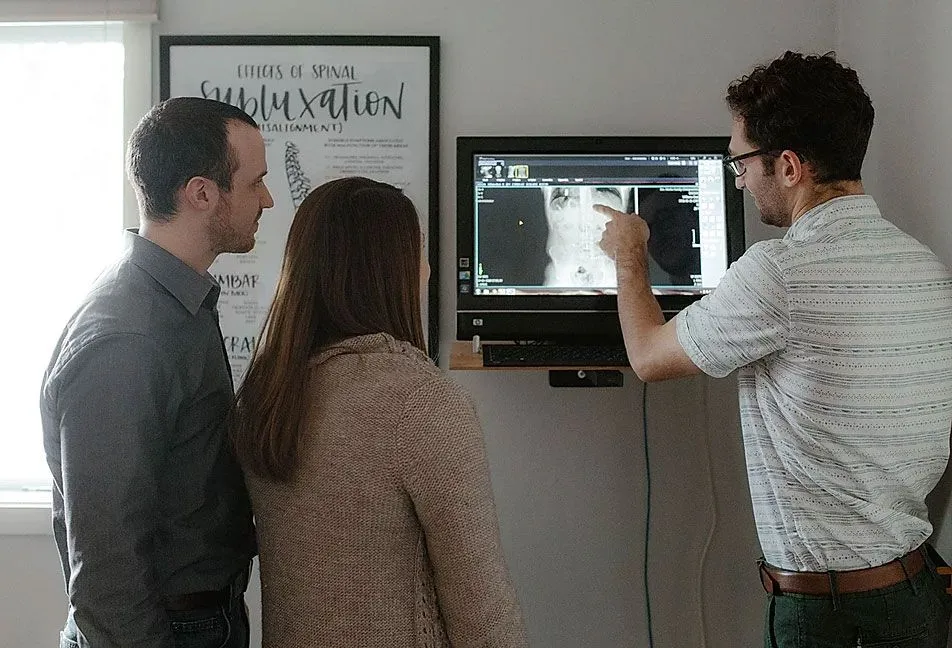 X-RAY
If the doctor decides that x-rays are necessary you will be escorted to the x-ray room. Here you will be guided through our x-ray process by the doctor and he will then assess the x-rays while you wait in the waiting room.
ADJUSTMENT
Next, you will be escorted back into one of the adjusting rooms. You'll notice that each room has a sign on it which says Life 1 to Life 5. These are how you will navigate to an adjusting room on subsequent visits. These rooms are where the Chiropractic adjustment is given. You may often hear us say "your power is on!" and what we mean is that your body is functioning without interference. By removing the interference the electrical system of your body is running on its full potential. A fully functioning nervous system allows your body to heal from the inside out!
Your Doctor will now explain the findings from your examination and x-rays. If you have any questions about these findings please feel free to ask and the Doctor will be more than happy to explain in greater detail. Once these findings are explained the Doctor will give you your very first Chiropractic adjustment.
An adjustment is a gentle, specific, scientific force that is introduced into the body through the use of the Doctor's hands. This force allows the body to facilitate movement of the vertebra back into their proper alignment.